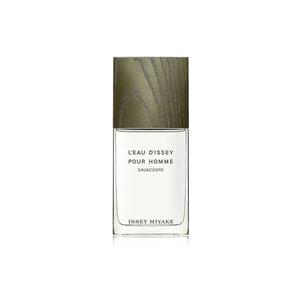 ISSEY MIYAKE L`EAU D`ISSEY POUR HOMME EAU & CEDRE MAN EAU DE TOILETTE is a vibrantly fresh fragrance. The strength of cedar wood enhanced by water.
A true encounter of the elements, water meets wood in this Eau de Toilette Intense.
The freshness of water contrasts with the dry and vibrant cedar wood.
It shapes and reveals the energetic essence of its sap.
A minimalist bottle that gets back to the essential, adorned with a touch of khaki and topped with a wooden cap echoing the raw, untouched nature that has inspired it.
FRAGRANCE
L'Eau d'Issey Eau & Cèdre Eau de Toilette Intense is a simple and vibrant composition.
The top notes consist of the fiery freshness of the cardamom.
The heart notes reveal an aquatic accord shaped by the roughness of cedarwood.
The base notes, meanwhile, comprise woody and majestic notes of vetiver and patchouli essences.
A COMMITMENT TO NATURE
L'Eau d'Issey pour Homme Eau&Cèdre bottle is made of 20% post-consumer recycled glass.
Its juice is vegan and features 91% of naturally derived ingredients. Notes of cardamom, vetiver, and patchouli are also sourced responsibly to the benefit of the communities where they are produced.
Its 100% ashwood cap is composed of a single piece, avoiding the need for energy-consuming assembly. 95% water use was reduced compared to L'Eau d'Issey Pour Homme EDT cap.
It's a renewal of L'Eau d'Issey pour Homme that celebrates its story, but also anchor the house as it turns towards tomorrow, forever seeking to innovate and serve nature.