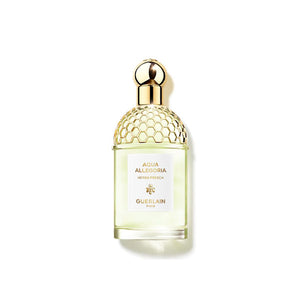 GUERLAIN AQUA ALLEGORIA HERBA FRESCA WOMAN EAU DE TOILETTE 125ML
 belongs to the Aqua Allegoria collection, the first collection of intensely fresh fragrances in perfumery created in 1999.
On the strength of the Guerlain Perfumer's expertise dating back to the legendary Eau de Cologne Impériale in 1853, the Guerlain Perfumer creates each of the Aqua Allegoria with the freshness of a Cologne and the hold of a Guerlain perfume. The guiding thread of the collection is bergamot, a precious citrus fruit, "Calabrian green gold", a key ingredient in the Guerlinade.
 جيرلان ابيل اليجوريا هيربا فريسكا ويمان او دو توليت 125مل أول مجموعة من العطور شديدة النضارة في صناعة العطور تم إنشاؤها في عام 1999. بناءً على قوة الخبرة التي يعود تاريخها إلى كل منتج ، يتم إنشاء كل عنصر من خلال نضارة كولونيا وعطر غيرلان. الخيط الإرشادي للمجموعة هو البرغموت ، ثمار حمضيات ثمينة ، "ذهب كالابريا الأخضر"