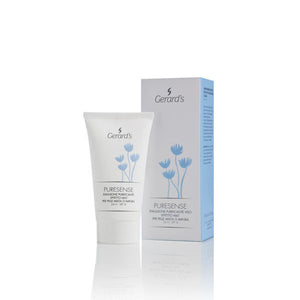 Gerard's Puresense Purifying And Mattifying Face Emulsion 50ml smooth, fresh and  quickly-absorbed emulsion to soothe oily, irritated or stressed skin suffering from acne. Nio-Sebactive, a natural sebum-rebalancing complex, minimises the appearance of dilated pores, leaving the skin mat, uniform and flawless.
HOW TO USE:
After cleansing and toning, apply to face, neck and décolleté with gentle strokes.
جيراردز بيورسينس مستحلب تنقية وتلطيف للوجه 50مل مستحلب ناعم ومنعش وسريع الامتصاص لتهدئة البشرة الدهنية أو المتهيجة أو المجهدة التي تعاني من حب الشباب. Nio-Sebactive ، مركب طبيعي لإعادة توازن الدهون ، يقلل من ظهور المسام المتوسعة ، ويترك الجلد متماسكًا وخاليًا من العيوب.
طريقة الاستخدام:
بعد التنظيف والتوحيد ، ضعيه على الوجه والرقبة والمنطقة الأعلى من الصدر بحركات لطيفة.