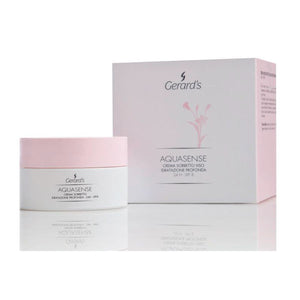 GERARD'S AQUASENSE INTENSIVE MOISTURISING FACE SORBET CREAM 50ML lightweight and smooth textured cream is a real splash of vitality for your skin. Codiufill complex - a derivative of green Seaweeds with oxygenating and re-mineralising properties - performs a deep 24H hydrating action.  
HOW TO USE:
Apply in the morning and evening, after cleansing and toning, to face, neck and décolleté with gentle strokes.
جيراردز اكواسينس كريم مرطب نهاري 50 مل كريم خفيف الوزن وناعم الملمس هو دفقة حقيقية من الحيوية لبشرتك. مركب Codiufill - مشتق من الأعشاب البحرية الخضراء بخصائص أكسجة وإعادة تمعدن - يقوم بعمل ترطيب عميق على مدار 24 ساعة.
طريقة الاستخدام:
يوضع في الصباح والمساء ، بعد التنظيف والتوحيد ، على الوجه والرقبة والمنطقة الأعلى من الصدر بضربات لطيفة.