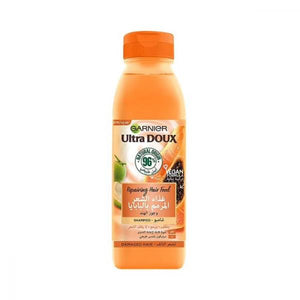 GARNIER ULTRA DOUX HAIR FOOD PAPAYA & AMLA SHAMPOO to help nourish damaged hair, blended with Papaya & Coconut. Its rich texture, instantly absorbs to nourish, quickly detangle and rinse. For intensely nourished, healthy-looking hair. Super Food for Super Hair! 98% Natural Ingredients and 100% Vegan Formula* blended with Papaya and Coconut.
For Damaged Hair.
Discover the full Papaya Hair Food haircare range and try our Papaya Shampoo, Conditioner and 3in1 Hair Mask Treatment. Our 3in1 intensive hair treatment can be used in 3 different ways: as a conditioner, rinse-out hair mask or leave-in conditioner. *Vegan Formula: no animal ingredients or by-products.
Officially approved by Cruelty Free International under the Leaping Bunny Programme
جارنيه الترا دوكس هير فود بابايا & املا شامبو للمساعدة في تغذية الشعر التالف ، ممزوج بالبابايا وجوز الهند. قوامه الغني ، يمتص على الفور للتغذية ، ويفك تشابكه ويشطفه بسرعة. لتغذية مكثفة وشعر صحي المظهر. سوبر فود للشعر الخارق! 98٪ مكونات طبيعية و 100٪ تركيبة نباتية ممزوجة بالبابايا وجوز الهند.
للشعر التالف