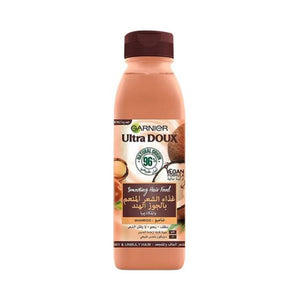 GARNIER ULTRA DOUX HAIR FOOD COCONUT & MACADAMIA SHAMPOO to help nourish curly and frizzy hair, blended with Coconut & Macadamia. Its rich texture, instantly absorbs to nourish, quickly detangle and rinse. For intensely nourished, healthy-looking hair. Super Food for Super Hair! 98% Natural Ingredients and 100% Vegan Formula* blended with Coconut and Macadamia.
For Curly Hair: Discover the full Coconut Hair Food haircare range and try our Coconut Shampoo, Conditioner and 3in1 Hair Mask Treatment. Our 3in1 intensive hair treatment can be used in 3 different ways: as a conditioner, rinse-out hair mask or leave-in conditioner. *Vegan Formula: no animal ingredients or by-products.
How to apply the Hair Food range:
1) Apply Hair Food Shampoo - as usual! Squeeze, lather, rinse thoroughly.
2) Follow with our Hair Food Conditioner.
3) For more intense nourishment dig into our 3-in-1 multi-use mask! Three ways to enjoy it: Conditioner, Mask, Leave In.
 جارنيه الترا دوكس هير فود كوكانت & مكاديميا شامبو للمساعدة في تغذية الشعر المجعد والمتطاير ، ممزوج بجوز الهند والمكاديميا. قوامه الغني ، يمتص على الفور للتغذية ، ويفك تشابكه ويشطفه بسرعة. لتغذية مكثفة وشعر صحي المظهر. سوبر فود للشعر الخارق! 98٪ مكونات طبيعية و 100٪ تركيبة نباتية ممزوجة بجوز الهند والمكاديميا
طريقة الاستعمال:
ضعي شامبو هير فود كالمعتاد! اعصري ، صغري ، اشطفي جيدًا