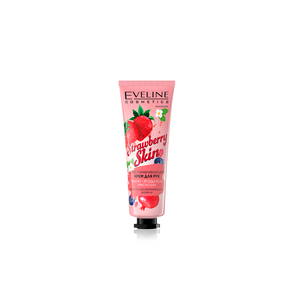 Eveline Strawberry Skin Regenerating Hand Balm 50ml
Benefits Of the Product:
Deeply moisturizes hands.
Eliminates dryness and helps to make softer and smoother skin.
Provides extra protective barrier.

-Cruelty Free.
-Vegan.
REGENERATING HAND BALM strawberry skin:
Restores the comfort of rough, irritated and damaged hand skin, deeply regenerates and moisturizes. Intensely caring composition of the balm acts like a vitamin repair compress, soothes irritation and smoothes skin.
كريم اليدين من ايفلاين بالفراولة 50 مل
 :فوائد المنتج
يرطب اليدين بعمق
يزيل الجفاف ويساعد على جعل البشرة أكثر نعومة ونعومةيوفر حاجزًا وقائيًا إضافيًا

نباتي-
 : تجديد بلسم الفراولة باليد
يعيد راحة بشرة اليد الخشنة والمتهيجة والتالفة ، ويجدد ويرطب بعمق. تعمل تركيبة بلسم العناية المركزة مثل ضغط فيتامين إصلاح ، وتهدئة تهيج البشرة وتنعيمها
Eveline strawberry hand balm..
I love it and will order it again!
.
لطيف وترطيبه حلو وكميته كبيرة
review
ريحته حلوة كتير و بتقدري تاخدي معك بس تطلعي