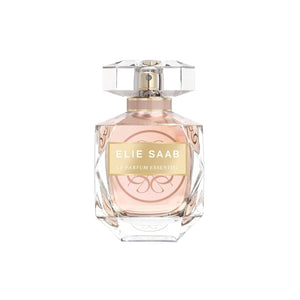 ELIE SAAB LE PARFUM ESSENTIEL WOMAN EAU DE PARFUM the new fragrance from ELIE SAAB: fruity tangerine paired with a powdery, gentle, enveloping gardenia and powerful cedarwood essence.

ELIE SAAB presents a new interpretation of its signature fragrance for women who know how to focus on the essentials in their lives. A beautiful escape from the hustle and bustle of the city to find your roots, your values yourself. A moment of luxury.
The ELIE SAAB signature of orange blossom and patchouli is reinvented with this fragrance. Fruity tangerine in the top note, while creamy white gardenia in the middle note expresses the essence of femininity. As a strong signature of this radiantly feminine composition, a pure cedar essence shows the real power of the ELIE SAAB woman and melts with her skin.
The elegant calligraphic seal with its intertwined initials is placed in gold on the back of the transparent glass bottle and frames the gold-framed ELIE SAAB logo. The delicate pink color of the fragrance expresses the pure femininity of the new creation.