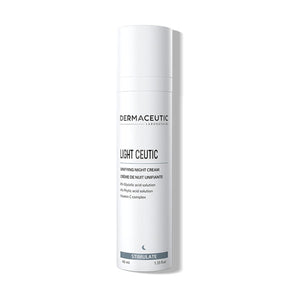 DERMACEUTIC LIGHT CEUTIC UNIFYING NIGHT CREAM 40 ML gently exfoliates the skin and reduces the appearance of pigment spots, thanks to the combined action of glycolic acid, phytic acid and vitamin C. This exfoliation process allows the skin to naturally regenerate overnight.

HOW TO USE:
Apply to face and neck area in the evening. Avoid the eye contour area.
ديرماسوتيك لايت سوتيك كريم التوحيد الليلي 40 مل يقشر البشرة بلطف ويقلل من ظهور البقع الصبغية ، بفضل العمل المشترك لحمض الجليكوليك وحمض الفيتيك وفيتامين سي. تسمح عملية التقشير هذه للبشرة بالتجدد الطبيعي طوال الليل.
طريقة الاستخدام:
يوضع على الوجه والرقبة في المساء. تجنب منطقة محيط العين.
لايت سوتيك
جبته من اسبوع
استخدمته مع فايتمين سي من ديرما سوتيك لهلا حاسه في جلو حلو بالبشره