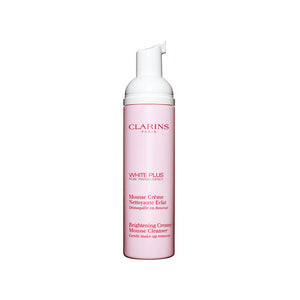 Clarins White Plus Pure Brightening Creamy Mousse Cleanser 125ml the essential first step to clean, refresh and relax the skin. Key actions:
- Leaves the skin less dull
- Leaves the skin luminous
It cleanses all impurities, sebum and pollution.
Contains Acerola fruit extract, sandspurry extract, lady's mantle extract and moringa extract.
A unique sensation with colored pale pink, whipped cream texture which is very gentle and comfortable.
كلارنز وايت بلس بيور غسول 125مل الخطوة الأولى الأساسية لتنظيف البشرة وتجديدها واسترخاءها. الإجراءات الرئيسية: - يترك البشرة أقل بهتاناً - يترك البشرة مضيئة ينظف جميع الشوائب والدهون والتلوث. يحتوي على مستخلص فاكهة Acerola ومستخلص نبات الرمل ومستخلص عباءة السيدة ومستخلص المورينجا. إحساس فريد من نوعه بلون وردي شاحب ، قوام كريمي لطيف ومريح للغاية.