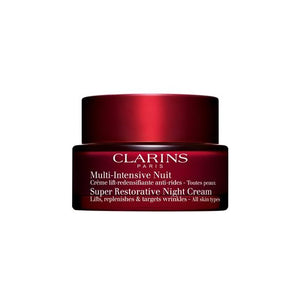 CLARINS SUPER RESTORATIVE NIGHT CREAM FOR ALL SKIN TYPES 50ML a deeply replenishing, anti-aging night moisturizer for all skin types that minimizes the appearance of lines, wrinkles, dullness, and slackening caused by age-related hormonal changes, while evening skin tone — for a visibly smoother, firmer, radiant, and more youthful-looking complexion.
This next generation green beauty innovation is powered by 91% ingredients of natural origin. Clarins' proprietary new Lift-Replenish Duo features wrinkle-fighting Organic Harungana extract—as effective as retinol* and gentle on the skin— to replenish and visibly minimize loss of density and new Organic Gorse extract, to visibly tighten and improve slackening caused by hormonal deficiencies linked to menopause. Organic Desert Date extract and a vitamin C derivative promote a more even skin tone. Organic Sea Lily extract intensely hydrates to leave skin feeling soft and comfortable. Organic Service Tree Bud extract boosts microcirculation while you sleep for a radiant glow by morning. Clarins' plant-based Anti-Pollution Complex features Nipplewort, Furcellaria & Organic White Horehound to help minimize damage from environmental pollution that leads to premature signs of aging, including skin-aging blue light from electronics. Skin appears more even, "lifted" and revitalized; lines and wrinkles are visibly reduced.
كلارنس سوبر ريسروتيف كريم ليلي لجميع انواع البشرة 50مل مرطب ليلي متجدد بعمق ومقاوم للشيخوخة لجميع أنواع البشرة يقلل من ظهور الخطوط والتجاعيد والبهتان والتراخي الناجم عن التغيرات الهرمونية المرتبطة بالعمر ، بينما لون البشرة في المساء - للحصول على مظهر أكثر نعومة وثباتًا وإشراقًا وأكثر بشرة شابة المظهر.
هذا الجيل الجديد من ابتكارات الجمال الأخضر مدعوم بنسبة 91٪ من المكونات الطبيعية. يتميز Lift-Replenish Duo الجديد الخاص بشركة Clarins بخلاصة Harungana العضوية المقاومة للتجاعيد - فعالة مثل الريتينول * ولطيفة على الجلد - لتجديد وتقليل فقدان الكثافة بشكل واضح ومستخلص نبات الجور العضوي الجديد ، لشد وتحسين التراخي الناجم عن الهرمونات أوجه القصور المرتبطة بانقطاع الطمث. يعمل مستخلص تمر الصحراء العضوي ومشتق فيتامين سي على تعزيز لون البشرة. مستخلص زنبق البحر العضوي يرطب بشكل مكثف ليترك البشرة ناعمة ومريحة. يعزز مستخلص برعم شجرة الخدمة العضوية دوران الأوعية الدقيقة أثناء النوم للحصول على توهج مشع في الصباح. يتميز مجمع Clarins المضاد للتلوث المعتمد على النباتات بوجود Nipplewort و Furcellaria و Organic White Horehound للمساعدة في تقليل الضرر الناجم عن التلوث البيئي الذي يؤدي إلى ظهور علامات الشيخوخة المبكرة ، بما في ذلك الضوء الأزرق الذي يسبب شيخوخة الجلد من الإلكترونيات. تبدو البشرة أكثر تناسقًا ، "مرفوعة" ومتجددة ؛ يتم تقليل الخطوط والتجاعيد بشكل واضح.