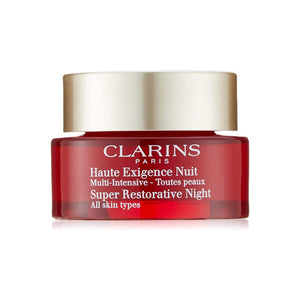 Clarins Super Restorative Night - All Skin Types 50ml an intensive night time treatment that meets the specific needs of skin challenged by hormonal changes due to the ageing process. 
Exclusive organic Harungana extract, a 'healing' tree from Madagascar, replenishes the skin at all levels* while an extraordinary plant extract, Montpelier cistus (a 'phoenix' plant), boosts complexion uniformity**.
Night after night, the skin is replenished, lifted and unified. Nourished and moisturised, it is left radiant and glowing.
كلارنز سوبر ريستروتيف كريم ليلي 50مل علاج ليلي مكثف يلبي الاحتياجات المحددة للبشرة التي تتحدى التغيرات الهرمونية بسبب عملية الشيخوخة. مستخلص Harungana العضوي الحصري ، شجرة "شفاء" من مدغشقر ، تغذي البشرة على جميع المستويات * بينما مستخلص نباتي استثنائي ، Montpelier cistus (نبات "العنقاء") ، يعزز تجانس البشرة **. ليلة بعد ليلة ، تتجدد البشرة وترفعها وتوحيدها. يغذيها ويرطبها ، وتتركها متألقة ومتألقة.