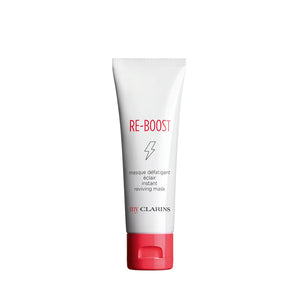 CLARINS MY CLARINS RE BOOST INSTANT REVIVING MASK 50ML a refreshing, 10-minute face mask that intensely hydrates the skin, visibly reduces signs of fatigue, and restores radiance. The icy, cream-gel mask is formulated with 88% natural ingredients—including super-quenching Organic Leaf of Life and Organic Quinoa extracts, plus radiance-boosting escin from Horse Chestnut—to awaken tired skin that looks dull and puffy due to lack of sleep. My Clarins exclusive Healthy In & Out Complex of nourishing Organic Coconut water and detoxifying Organic Alpenrose extract leaves skin looking healthy, hydrated, and revived. The blue, creamy gel with a moisture-rich texture delivers an invigorating, cooling effect upon contact.
Your VEGAN recipe—free of phthalates, parabens, and sulfates—to minimize signs of fatigue for refreshed, radiant skin. My Clarins is free of all animal-derived ingredients and was not tested on animals.
Skin type: All skin types
Texture: Cream-Gel
Use: Use 1-2 times per week, as needed.
كلارنس ماي كلارنس ري بوزت انستنت رفيفنج ماسك 50مل قناع وجه منعش لمدة 10 دقائق يرطب البشرة بشكل مكثف ويقلل بشكل واضح من علامات التعب ويعيد التألق. يتكون القناع الكريمي الجليدي من 88٪ من المكونات الطبيعية - بما في ذلك أوراق الحياة العضوية فائقة التبريد ومستخلصات الكينوا العضوية ، بالإضافة إلى الإسكين المعزز للإشراق من كستناء الحصان - لإيقاظ البشرة المتعبة التي تبدو باهتة ومنتفخة بسبب نقص ينام. مركب صحي داخلي وخارجي حصري من My Clarins من ماء جوز الهند العضوي المغذي ومستخلص ألبينروز العضوي المزيل للسموم ، يترك البشرة تبدو صحية ورطبة ومتجددة. يوفر الجل الكريمي الأزرق ذو التركيبة الغنية بالرطوبة تأثيرًا منعشًا ومبردًا عند التلامس. وصفة VEGAN الخاصة بك - خالية من الفثالات والبارابين والكبريتات - لتقليل علامات التعب للحصول على بشرة منتعشة ومشرقة. إن My Clarins خالي من جميع المكونات المشتقة من الحيوانات ولم يتم اختباره على الحيوانات.
نوع البشرة: جميع أنواع البشرة
الملمس: كريم جل
الاستخدام: يستخدم مرة أو مرتين في الأسبوع ، حسب الحاجة.