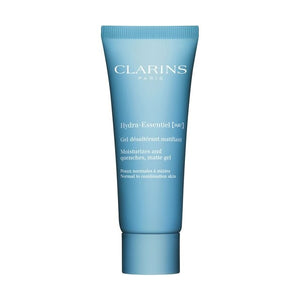 CLARINS HYDRA ESSENTIEL MATTE GEL 75ML intensely hydrating, mattifying face gel delivers a boost of moisture for immediate and long-lasting results—plumper skin in just 60 seconds* and 24-hour hydration.** The sensorial, refreshing gel texture melts right in for skin that feels soft, plump, mattified, and perfectly hydrated. Organic Alpine Willowherb defies shine for a fresh, matte complexion. Ideal for normal to combination skin.
Clarins' plant-based Anti-Pollution Complex, made with Nipplewort, Furcellaria and Organic White Horehound, helps minimize the skin-aging effects of environmental aggressors and pollution, including blue lights from electronics.
Skin type: Combination, Normal
كلارنس هايدرا اسينشيال مات جل 75مل يوفر جل الوجه المرطب بشكل مكثف وغير اللامع دفعة من الترطيب للحصول على نتائج فورية وطويلة الأمد - يملأ البشرة في 60 ثانية فقط * وترطيب لمدة 24 ساعة. ** يذوب ملمس الجل الحسي المنعش في البشرة التي تشعر بالنعومة والممتلئ ، غير لامع ، ورطب تمامًا. يتحدى نبات Willowherb العضوي من جبال الألب اللمعان للحصول على بشرة منتعشة غير لامعة. مثالي للبشرة العادية إلى المختلطة.
يساعد مركب Clarins المضاد للتلوث النباتي ، المصنوع من Nipplewort و Furcellaria و Organic White Horehound ، في تقليل آثار شيخوخة الجلد الناتجة عن العوامل البيئية الضارة والتلوث ، بما في ذلك الأضواء الزرقاء من الأجهزة الإلكترونية.
نوع البشرة: مختلطة ، عادية