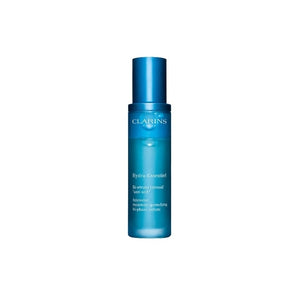 CLARINS HYDRA ESSENTIEL BI-PHASE SERUM - NORMAL TO DRY SKIN refreshing lightweight serum for thirsty skin that feels tight, lacks radiance and is prematurely lined. Shields skin from the dehydrating effects of daily thermic shocks that can leave it looking dry and weathered: sudden temperature changes, indoor and outdoor pollutants and environmental stress. Quenches skin with Organic leaf of life extract—a succulent plant that enhances the skin's ability to retain precious moisture—leaving it plump, radiant and perfectly hydrated.
Pair Bi-phase Serum with your Hydra-Essentiel moisturizer to experience the ultimate super-quenching duo.
كلارنز هايدرا اسينشيال بيو فيس سيروم مصل منعش خفيف الوزن للبشرة المتعطشة التي تشعرك بالضيق ويفتقر إلى الإشراق ومبطن قبل الأوان. تحمي البشرة من آثار التجفيف الناتجة عن الصدمات الحرارية اليومية التي يمكن أن تتركها تبدو جافة ومتضررة من عوامل الطقس: التغيرات المفاجئة في درجات الحرارة والملوثات الداخلية والخارجية والإجهاد البيئي. يروي البشرة بمستخلص أوراق الحياة العضوية - نبات عصاري يعزز قدرة البشرة على الاحتفاظ بالرطوبة الثمينة - مما يجعلها ممتلئة ومتألقة ورطبة تمامًا. قم بإقران سيروم Bi-phase مع مرطب Hydra-Essentiel الخاص بك لتجربة الثنائي الفائق التبريد.