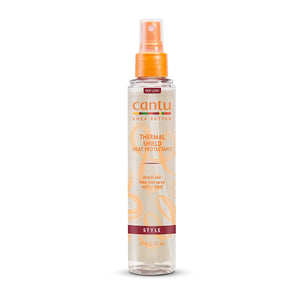 CANTU SHEA BUTTER THERMAL SHIELD HEAT PROTECTANT 151ML made with pure Shea Butter to replace vital moisture, revealing stronger, healthier hair with a natural shine. Cantu Thermal Shield Heat Protectant is a pre-treatment for all hairstyles to help minimise damage caused by flat irons and other heated styling tools, while adding moisture to strands for smoother, frizz-free results.
• Lightweight formula helps minimise heat damage
• Reduces frizz & tames flyaways
• Conditions & smoothes
Great for: relaxed, texturised, coloured & permed hair.
HOW TO USE:
Spray on damp hair before blow drying or air drying. Dry hair completely. Lightly mist hair evenly in targeted area, section by section, before using a flat iron or curling iron.
كانتو شيا بتر ثيرمال شيلد واقي حرارة 151مل مصنوع من زبدة الشيا النقية ليحل محل الترطيب الحيوي ، ويكشف عن شعر أقوى وأكثر صحة ولمعان طبيعي. الحماية الحرارية من كانتو هي معالجة مسبقة لجميع تسريحات الشعر للمساعدة في تقليل الضرر الناجم عن المكواة المسطحة وأدوات التصفيف الساخنة الأخرى ، مع إضافة الرطوبة إلى الخيوط للحصول على نتائج أكثر نعومة وخالية من التجعد.
• تركيبة خفيفة الوزن تساعد على تقليل الضرر الناتج عن الحرارة •
يقلل من التجعد ويروض الذباب
• يلطف وينعم
مثالي لـ: شعر مسترخي ، ذو ملمس ، ملون ومتموج.
طريقة الاستخدام:
رشه على شعر رطب قبل التجفيف بالمجفف أو بالهواء. جفف الشعر تمامًا. رشي الشعر برفق بالتساوي في المنطقة المستهدفة ، قسمًا بعد قسم ، قبل استخدام مكواة فرد الشعر أو مكواة تجعيد الشعر.