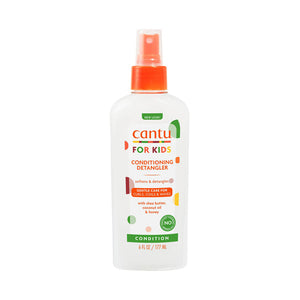 CANTU CARE FOR KIDS CONDITIONING DETANGLER calms tangles to reduce breakage with the perfect blend of pure shea butter, coconut oil and honey formulated without harsh ingredients. Nurture and nourish fragile coils, curls and waves with Cantu's gentle care for textured hair.
NO MINERAL OIL, SULFATES, PARABENS, PHTHALATES, GLUTEN, PARAFFIN or PROPYLENE.
HOW TO USE:
Shake to activate. Spray onto damp or dry hair, section by section. Comb through and style as usual.
يعمل كانتو كير مزيل التشابك للأطفال على تهدئة التشابك لتقليل التكسر بمزيج مثالي من زبدة الشيا النقية وزيت جوز الهند والعسل المصنوع بدون مكونات قاسية. ويغذي اللفائف والتموجات الهشة مع العناية اللطيفة بالشعر.
لا يحتوي على زيوت معدنية أو سلفات أو بارابين أو فثالات أو جلوتين أو بارافين أو بروبيلين.
طريقة الاستخدام:
رجي العلبة ثم رشيه على الشعر الرطب أو الجاف ، قسمي الشعر إلى أجزاء ثم مشطي الشعر و سرحيه كالمعتاد.
ممتاز عنجد بفك التشابك و بعطي ريحه كتير حلوه و لمعه للشعر