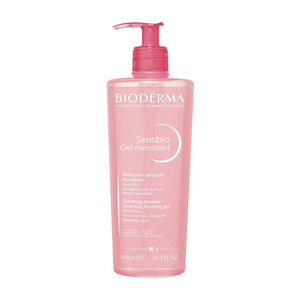 Bioderma Sensibio Gel Moussant Soothing Cleansing Foaming Gel 500ml is a cleansing gel For Sensitive skin that is enriched with Coco Glucoside/Glycéryl Oléate; that mimics the skin structure, It has lipid-restoring and moisturising properties. Gently cleanses and removes make-up from face and eyes. Soothes and calms irritations. The skin is clean, soft and comfortable.
HOW TO USE:
Apply on wet skin. Lather, massage gently then rinse thoroughly and dry gently.
جل رغوة بيوديرما سينسيبيو هو جل منظف للبشرة الحساسة غني بكوكو غلوكوسيد / غليسيريل أوليت ؛ يحاكي بنية الجلد ويرطبها . ينظف ويزيل المكياج بلطف من الوجه والعينين. يلطف ويهدئ التهيج وبالتالي بشرة نظيفة وناعمة ومريحة.
طريقة الاستخدام:
يوضع على بشرة مبللة. يُرغى ، يُدلك بلطف ثم يشطف جيداً ويُجفف برفق.