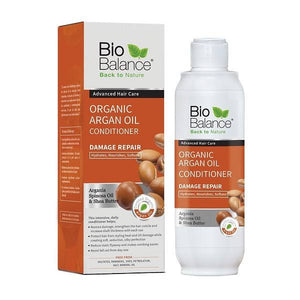 BIO BALANCE ORGANIC ARGAN OIL DAMAGE REPAIR CONDITIONER is a rich, creamy conditioner formulated with Organic Argan Oil, Shea Butter, Panthenol, Soy, Corn and Wheat Proteins help repair damage, strengthen the hair cuticle and increase shaft thickness with each use. Argan Oil of Morocco protects hair from styling heat and UV damage while creating soft, seductive, silky perfection.
Formulated without harsh sulfates that can fade color and leave hair looking and feeling dull and weak.
HOW TO USE:
After shampooing with Bio Balance Shampoo, apply organic Argan oil conditioner into hair with fingertips. Leave 1-2 minutes. Then rinse out.
بلسم بيو بالانس لإصلاح الضرر بزيت الأرغان العضوي هو بلسم غني وكريمي يتكون من زيت الأرغان العضوي وزبدة الشيا والبانثينول والصويا والذرة وبروتينات القمح التي تساعد على إصلاح الضرر وتقوية بشرة الشعر وزيادة سماكة الشعرة مع كل استخدام. يحمي زيت الأرغان المغربي الشعر من حرارة التصفيف وضرر الأشعة فوق البنفسجية مع إعطاء مظهر ناعم وحريري. تركيبة خالية من السلفات التي يمكن أن تؤثر على لون الشعر و تجعله يبدو ضعيفًا و باهتًا.
طريقة الاستخدام:
بعد غسل الشعر بشامبو بيو بالانس ، ضعي بلسم زيت الأرغان العضوي على الشعر بأطراف الأصابع. اتركيه 1-2 دقيقة. ثم اشطفيه.
bio balance conditioner
من الخيارات الحلوة جدًا ، ترطيبه للشعر حلو كثير ، و ريحته حلوة
ملمس الشعر بعد استخدامه خُرافي 🔥
I really like it as it leaves my hair healthier , plus its price is affordable .
.
برطب الشعر و بخليه ناعم مناسب لكل انواع الشعر انا و اخواتي كلنا حبيناه👌