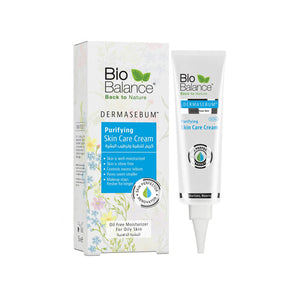 BIO BALANCE DERMASEBUM PURIFYING SKIN CARE CREAM reduces the production of excess sebum and accelerates the production of young skin cells, while moisturizing the skin and strengthening its natural barrier. for oily to combination skin.
HOW TO USE:
Use regularly twice a day on clean and dry face. For best results, use in combination with Dermasebum Purifying Facial Cleansing Gel.
كريم بيو بالانس ديرماسيبم المنقي للعناية بالبشرة يقلل من إفراز الدهون الزائدة ويسرع إنتاج خلايا الجلد الجديدة ، بينما يرطب البشرة ويقوي حاجزها الطبيعي. للبشرة الدهنية و المختلطة.
طريقة الاستخدام:
استخدميه بانتظام مرتين في اليوم على وجه نظيف وجاف. للحصول على أفضل النتائج ، استخدميه مع جل تنظيف الوجه بيوبالانس ديرماسيبم
صرلي ٢سنتين بستخدمه رهيب ناسبني بشرتي دهنية 👍🏼
Bio Balance
Great under makeup, make my makeup look smooth
BIO BALANCE DERMASEBUM PURIFYING SKIN CARE CREAM 55ML