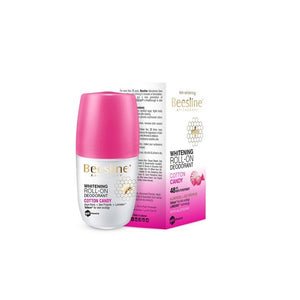 Beesline Whitening Roll-on Deodorant Cotton Candy 50ml is an innovative, safe & highly effective 48hr antiperspirant deodorant that works to fight body odour, adsorb moisture & soothe the skin while lightening & evening skin tone for clean & bright underarms.
HOW TO USE:
Use daily. Apply a thin layer to clean, dry underarms. Allow to dry before dressing. Reapply after heavy physical activity or bathing.
مزيل العرق بيزلين رول أون كوتون كاندي 50مل هو مضاد للتعرق مبتكر وآمن وفعال للغاية لمدة 48 ساعة يعمل على محاربة رائحة الجسم ويمتص الرطوبة ويهدئ البشرة مع تفتيح لون البشرة في المساء للحصول على منطقة تحت الإبط نظيفة ومشرقة.
طريقة الاستخدام:
استخدميه يوميا. ضعي طبقة رقيقة على منطقة الإبط النظيفة والجافة. اتركيه ليجف قبل ارتداء الملابس. أعيدي استخدامه بعد ممارسة نشاط بدني شديد أو الاستحمام.
Really good
I'm using this one from 3 years till now .
love this !
احسن ديودرنت ممكن تتستخدموه ❤️