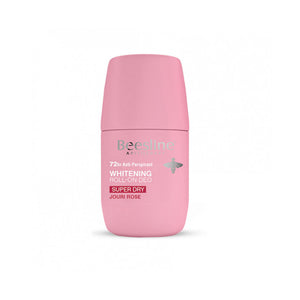 BEESLINE WHITENING ROLL ON DEO SUPER DRY JOURI ROSE is an innovative, safe & highly effective 72hr antiperspirant deodorant that provide a super dry feel  & ultimate freshness. Works to fight body odour, reduce sweat & soothe underarm while lightening and evening skin tone.
HOW TO USE:
Use daily. Apply a thin layer to clean, dry underarms. Allow to dry before dressing. Reapply after heavy physical activity or bathing.
بيزلين مزيل عرق مفتح ومبيض رول اون بالورد الجوري هو مزيل عرق مبتكر وآمن وفعال للغاية ومضاد للتعرق لمدة 72 ساعة يوفر ملمسًا جافًا للغاية ونضارة مطلقة. يعمل على محاربة رائحة الجسم وتقليل التعرق وتهدئة الإبط مع تفتيح البشرة ولونها.
طريقة الاستخدام:
استخدميه يوميا. ضعي طبقة رقيقة على منطقة الإبط النظيفة والجافة. اتركيه ليجف قبل ارتداء الملابس. أعيدي استخدامه بعد ممارسة نشاط بدني شديد أو الاستحمام.
BEESLINE WHITENING ROLL ON DEO SUPER DRY JOURI ROSE 50ML
ريحته حلوه ومفعوله قوي ومع الوقت بوحد اللون