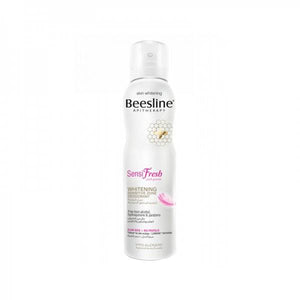 Beesline Sensifresh Whitening Sensitive Zone Deodorant 150ml is a skin-friendly hygienic deodorant for intimate zones to control odour causing bacteria, even out skin tone, absorb moisture & soothe the sensitive skin.
HOW TO USE:
Use twice a day, Hold can 15cm away from skin & spray. Do not apply to broken or irritated skin. In case of diffuser blockage, remove the nozzle & rinse with hot water.
ديودرنت بيزلين لتفتيح المناطق الحساسة 150مل هو ديودرنت صحي وصديق للبشرة للمناطق الحميمة للسيطرة على البكتيريا المسببة للرائحة، وتوحيد لون البشرة ، وامتصاص الرطوبة وتهدئة البشرة الحساسة.
طريقة الاستخدام:
استخدميه مرتين في اليوم ، أمسكي العبوة على بعد 15 سم من الجلد ورشيه. لا يطبق على جلد متهيج. في حالة انسداد الفوهة ، قومي بإزالتها واشطفيها بالماء الساخن.