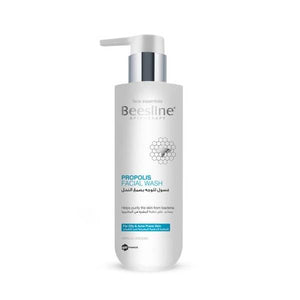 BEESLINE PROPOLIS FACIAL WASH FOR OILY AND ACNE PRONE SKIN is a gentle foaming gel that thoroughly cleanses the skin, reducing oily secretions & breakouts through propolis's powerful antimicrobial, purifying & soothing properties.
HOW TO USE:
Use twice daily (morning & night). Lather and gently massage onto damp skin. Rinse with cool water & pat dry.
بيزلين بروبوليس غسول للوجه للبشرة الدهنية والمعرضة لحب الشباب هو جل رغوي لطيف ينظف البشرة تمامًا ، ويقلل الإفرازات الدهنية وظهور البثور من خلال خصائص البروبوليس القوية المضادة للميكروبات والمنقية والمهدئة.
طريقة الاستخدام:
يستعمل مرتين يومياً (صباحاً ومساءً). يرغى ويدلك برفق على بشرة رطبة. يشطف بالماء البارد وتترك البشرة حتى تجف.
beasline cleanser
it's suitable for my skin make it clean and relaxed