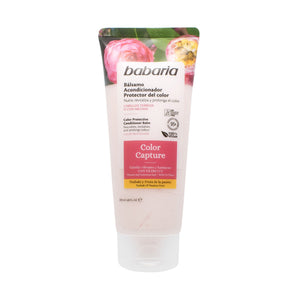 Babaria Color Capture Protector Hair Balm 200Ml nourishes and prolongs the color of dyed or highlighted hair. Contains Tsubaki and passion fruit, which have antioxidant and moisturizing properties. Protects the hair from external agents for longer-lasting, vibrant, brighter color. Contains UV filter.
HOW TO USE:
After washing the hair, apply a walnut-sized amount from the mid-length to the ends and massage through the hair. Leave for one minute then rinse. In case of contact with eyes, rinse immediately with plenty of water.
باباريا بلسم للشعر المصبوغ 200 مل يغذي ويطيل لون الشعر المصبوغ أو المميز. يحتوي على تسوباكي وفاكهة الباشن فروت التي تتمتع بخصائص مضادة للأكسدة ومرطبة. يحمي الشعر من العوامل الخارجية للحصول على لون أكثر حيوية وأكثر إشراقًا يدوم لفترة أطول. يحتوي على فلتر للأشعة فوق البنفسجية.
طريقة الاستخدام:
بعد غسل الشعر، ضعي كمية بحجم حبة الجوز من منتصف الطول إلى الأطراف ودلكي الشعر. يترك لمدة دقيقة واحدة ثم يشطف. في حالة ملامسة العينين، اشطفهما فورًا بكمية كبيرة من الماء.