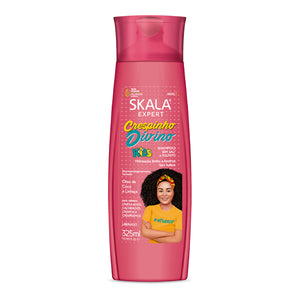 SKALA CRESPINHO DIVINO KIDS SHAMPOO  325ML cleans without drying, leaving the strands soft and loose. Moms will love it and the little ones will enjoy every moment with these little products! We combine actives that bring hydration, shine and anti-frizz effect in a delicate formulation, designed to clean the hair gently. More fun and joy at bath time! The sulfate-free product tends to foam less
*100% Vegan*
**Free from Sulfate, Paraben, Silicone, Drying alcohol, Mineral oil, Waxes (CGM APPROVED)**
HOW TO USE:
Apply it to your scalp and massage gently 7-10 mins then rinse well. (Approved shampoo, No sulfate) .
سكالا شامبو اطفال 325مل ينظف دون أن يجف ، ويترك الخيوط ناعمة وفضفاضة. ستحبها الأمهات وسيستمتع الصغار بكل لحظة مع هذه المنتجات الصغيرة! نحن نجمع بين العناصر النشطة التي تجلب الترطيب واللمعان والتأثير المضاد للتجعد في تركيبة دقيقة ، مصممة لتنظيف الشعر بلطف. المزيد من المرح والمتعة في وقت الاستحمام! يميل المنتج الخالي من الكبريتات إلى تقليل الرغوة
* نباتي 100٪ * *
* خالٍ من الكبريتات والبارابين والسيليكون والكحول الجاف والزيوت المعدنية والشموع (معتمد من CGM) **
طريقة الاستخدام:
ضعيه على فروة رأسك ودلكي بلطف لمدة 7-10 دقائق ثم اشطفيه جيداً. (شامبو معتمد ، بدون كبريتات).