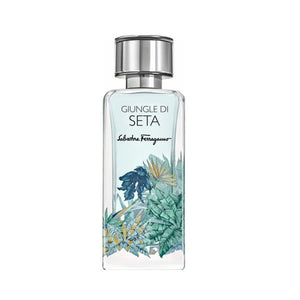 SALVATORE FERRAGAMO GIUNGLE DI SETA UNISEX EAU DE PARFUM storie di seta is the new line of fragrances inspired by the imaginary worlds of Salvatore Ferragamo's silk creations. A refined collection of four universal and fresh perfumes, each unique fragrance is bound by an exclusive mix.
A rich, exotic flora and green olfactory notes unveil Giungle di Seta, an eau de parfum inspired by mysterious, remote landscapes. A fresh and energetic perfume, Salvatore Ferragamo's new olfactory chapter opens a tear on the overwhelming atmospheres of wild jungles.
سلفاتوري  فيراغامو جينجل دي سيتا للجنسين او دي بارفيوم هو خط جديد من العطور مستوحى من العوالم الخيالية لإبداعات الحرير من سالفاتور فيراغامو. مجموعة راقية من أربعة عطور عالمية وطازجة ، كل عطر فريد مرتبط بمزيج حصري. تكشف الأزهار الغنية والغريبة والنفحات الشمية الخضراء عن Giungle di Seta ، وهو ماء عطر مستوحى من المناظر الطبيعية الغامضة والنائية. عطر جديد وحيوي ، يفتح الفصل الجديد لحاسة الشم من سالفاتور فيراغامو دمعة على الأجواء الساحقة للغابات البرية.