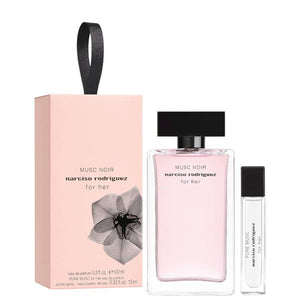 NARCISO RODRIGUEZ FOR HER MUSC NOIR EAU DE PARFUM COFFRET this set contains for her MUSC NOIR 100ml and for her EDP PURE MUSC in 10ml Travel Spray format.
In MUSC NOIR Eau de Parfum, the heart of musk, the olfactory signature of the for her line, is wrapped in mystery and sensuality.
Inspired by the first perfume for her, MUSC NOIR reinterprets its codes by playing on the most intense and mysterious aspects of the iconic path.
The fruity notes of plum and the intoxicating heliotrope, a flower with a hypnotic scent, give vivacity to the perfume. The captivating intensity of the musk heart enriches the perception characterized by an intense and sensual suede effect.
نارسيسو رودريغيز فور هير مسك نوار او دو كومفورت بارفيوم يحتوي هذه المجموعة على عطر MUSC NOIR بسعة 100 مل و EDP PURE MUSC بتنسيق 10 مل من بخاخ السفر. قلب المسك ، التوقيع الشمي لخطها ، يلفه الغموض والشهوانية. مستوحى من العطر الأول لها ، يعيد تفسير رموزه من خلال اللعب على أكثر الجوانب كثافة وغامضة في المسار الأيقوني. تضفي المكونات الفاكهية من البرقوق وزهرة الهليوتروب المسكرة ، وهي زهرة ذات رائحة منومة ، حيوية على العطر. كثافة الآسرة لقلب المسك تثري الإدراك الذي يتميز بتأثير مكثف وحسي من جلد الغزال.