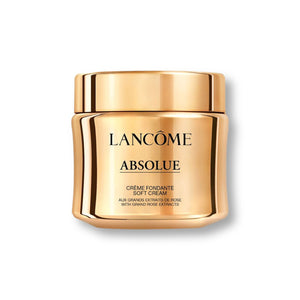 Lancome Absolue Precious Cells Soft Cream 60ml is the hero skincare of our premium Absolue range. At the heart of this exceptional cream is our Grand Rose Extracts enriched with Lancome Rose, Rose Damascena and Centifolia Rose. The cream helps promote skin surface cell renewal and leaves skin feeling softer, more supple and comfortable for visible results in as fast as 3 weeks.

WHICH SKIN CONCERNS DOES THE ABSOLUE SOFT CREAM TARGET:
The Absolue Soft Cream helps you target dullness, fine lines & wrinkles, to achieve luminous and regenerated skin.
لانكوم سيلز سوفت كريم 60مل هو مستحضر العناية الأول في مجموعة Absolue المتميزة لدينا. في قلب هذا الكريم الاستثنائي ، توجد خلاصة Grand Rose الخاصة بنا المخصب بزهرة لانكوم ، وورد داماسكينا ، وورد سنتيفوليا. يساعد الكريم في تعزيز تجديد خلايا سطح الجلد ويترك البشرة أكثر نعومة ومرونة وراحة للحصول على نتائج مرئية في غضون 3 أسابيع. ما هي مخاوف البشرة التي يستهدفها الكريم الناعم المطلق: يساعدك كريم Absolue Soft على التخلص من البهتان والخطوط الدقيقة والتجاعيد للحصول على بشرة متألقة ومتجددة.