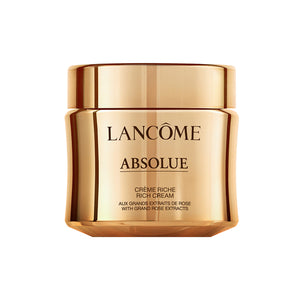 LANCOME ABSOLUE PRECIOUS CELLS RICH CREAM 60ML infused with Grand Rose Extracts helps your skin regenerate in as fast as 3 weeks.

Lancôme preserves the life power of the Rose: Through sophisticated extraction processes, we have crafted an exclusive blend of Grand Rose Extracts to infuse our sovereigns skincare collection - Absolue. 

BENEFITS
• After 1 day skin feels nurtured and soothed.
• In 1 week, it looks revitalized and regains luminosity.
• In 1 month, skin is regenerated and visibly transformed.
• Accelerated skin cell renewal is clinically proven.
• Skin feels firmer, plumper 
• Wrinkles & fine lines appear diminished for smoother, younger looking skin 
لانكوم سيلز رش كريم 60مل غني بمستخلصات Grand Rose التي تساعد بشرتك على التجدد في غضون 3 أسابيع. تحافظ Lancôme على قوة حياة الورد: من خلال عمليات الاستخراج المتطورة ، قمنا بصياغة مزيج حصري من مستخلصات Grand Rose لتغمر مجموعة العناية بالبشرة الخاصة بنا - Absolue.
فوائد
• بعد يوم واحد تشعر البشرة بالرعاية والهدوء.
• في أسبوع واحد ، يبدو منتعشًا ويستعيد لمعانه.
• في شهر واحد ، تتجدد البشرة وتتحول بشكل واضح.
• تجديد خلايا الجلد المتسارع مثبت سريريًا.
• تبدو البشرة مشدودة وممتلئة
• تتضاءل التجاعيد والخطوط الدقيقة للحصول على بشرة أكثر نعومة وشبابًا