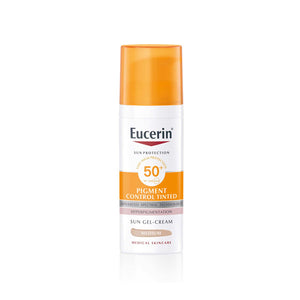 EUCERIN SUN PROTECTION PIGMENT CONTROL (TINTED) MEDIUM  GEL CREAM SFP50+ is a superior facial sunscreen for all skin types that prevents sun-induced hyperpigmentation. Effectively reduces dark spots and prevents their re-appearance. 
With color pigment for a dual effect: Instantly unifies complexion & provides additional defense against HEVIS induced pigmentation.
HOW TO USE:
Apply daily to face and neck before exposure to the sun. reapply frequently especially after swimming, perspiring or toweling to maintain the original protection.
واقي الشمس يوسيرين بغمنت كنترول جل كريم إس بي إف 50+ بلون متوسط الدرجة هو واقي شمسي فائق للوجه لجميع أنواع البشرة ويمنع فرط التصبغ الناتج عن الشمس. يقلل بشكل فعال من البقع الداكنة ويمنع ظهورها مرة أخرى.
يأتي هذا الواقي مع درجة لون متوسطة لتأثير مزدوج: يوحد البشرة على الفور ويوفر دفاعًا إضافيًا ضد التصبغ الناجم عن HEVIS.
طريقة الاستخدام:
يوضع يومياً على الوجه والرقبة قبل التعرض للشمس. يُعاد وضعه بشكل متكرر خاصة بعد السباحة أو التعرق أو استخدام المنشفة للحفاظ على الحماية الأصلية.
very good
best product ever , i have been use it for more than 2 years ago.
The color it leaves on the skin is annoying
review
من أحسن الsunblocks الي جربتهم كثير ملمسه حلو عالبشرة ما بيدهن و حمايته ممتازة
بشرتي مختلطة وكثير ناسبني 🤩
احسن واقي للبشرة الدهنية و المختلطة
الواقي كتيير لطيف على البشرة ما بترك طبقة بيضاء و بخفف من دهنية البشرة يعني ما بخليها تزيت
ما بزيت وخفيييف عالبشرة بنصح فيه