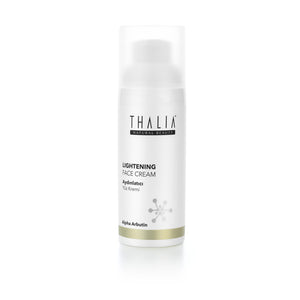 THALIA LIGHTENING FACE CREAM 50ML rich formula containing anti-blemish botanicals Alpha Arbutin and Niacinamide, helps reduce the appearance of blemishes and even out skin tone. Day by day, the skin becomes clearer, more homogeneous and brighter. Its nourishing and moisturizing formula enriched with Shea butter, rice bran oil, and wheat extract oil meets the moisture and nutritional needs of the skin. Improves the appearance of the skin by supporting the skin barrier. While tightening the pores with Rose Water in its specially formulated formula, it nourishes the skin and maintains the moisture balance of the skin with vitamin E.
HOW TO USE:
Apply to clean face and neck in circular motions. Use simultaneously with other Thalia Alpha Arbutin Series products to achieve maximum effect in a short period of time.
ثاليا لايتننج فيس كريم 50مل تركيبة غنية تحتوي على نباتات نباتية مضادة للشوائب ألفا أربوتين ونياسيناميد ، تساعد على تقليل ظهور الشوائب وتوحيد لون البشرة. يومًا بعد يوم ، تصبح البشرة أكثر وضوحًا وتجانسًا وإشراقًا. تلبي تركيبته المغذية والمرطبة المخصبة بزبدة الشيا وزيت نخالة الأرز وزيت مستخلص القمح الرطوبة والاحتياجات الغذائية للبشرة. يحسن مظهر الجلد من خلال دعم حاجز الجلد. أثناء شد المسام بماء الورد بتركيبته الخاصة ، فإنه يغذي البشرة ويحافظ على توازن رطوبة البشرة بفيتامين هـ.
طريقة الاستخدام:
يوضع على الوجه والعنق النظيف بحركات دائرية. استخدم في نفس الوقت مع منتجات سلسلة Thalia Alpha Arbutin الأخرى لتحقيق أقصى تأثير في فترة زمنية قصيرة.