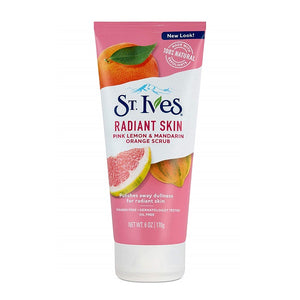 ST IVES RADIANT SKIN PINK LEMON & MANDARIN ORANGE SCRUB 170G St. Ives Radiant Skin Pink Lemon and Mandarin Orange Face Scrub is a delicious, citrusy scrub that polishes away dryness and reveals irresistibly radiant skin
This exfoliating cleanser and facial scrub is made with 100 percent natural exfoliants
St. Ives exfoliating scrub is dermatologist-tested, paraben free, and non-comedogenic
This facial scrub provides moderate exfoliation to slough away dull skin to reveal glowing skin
Use this Pink Lemon and Mandarin Orange face wash scrub to promote soft healthy skin, clearing away dullness for brighter skin
HOW TO USE :
1. Squeeze a dime sized amount of Fresh Skin Apricot Scrub onto your fingertips and massage onto damp skin.
2. Spread in small circular motions, applying gentle pressure to wake your skin's natural circulation.
3. Work all over, right up to your hairline and onto the sides of your nose.
4. When you're done, rinse and pat dry with a clean towel.
5. Use 3 to 4 times a week (depending on skin) for best results.
مقشر الوجه بالليمون الوردي والبرتقال المندرين المشع للبشرة هو مقشر حمضي يزيل الجفاف ويكشف عن بشرة متألقة لا تقاوم
يتكون هذا المنظف المقشر ومقشر الوجه من مقشرات طبيعية
تم اختبار مقشر التقشير من قبل أطباء الجلدية ، وخالٍ من البارابين ، ولا يسبب انسداد المسام
يوفر مقشر الوجه هذا تقشيرًا معتدلًا لإزالة الجلد الباهت للكشف عن بشرة متوهجة
استخدم مقشر غسول الوجه بالليمون الوردي والماندرين لتعزيز بشرة صحية ناعمة ، ويزيل البهتان للحصول على بشرة أكثر إشراقًا
كيفية الاستخدام
ضعي كمية بحجم عشرة سنتات من مقشر المشمش الطازج على أطراف أصابعك ودلكيه على بشرة رطبة
ينتشر في حركات دائرية صغيرة ، مع الضغط اللطيف لإيقاظ الدورة الدموية الطبيعية لبشرتك
افركيه بالكامل حتى منبت الشعر وعلى جانبي أنفك
عند الانتهاء ، اشطفي بشرتك وجففيها بمنشفة نظيفة
استخدميه من 3 إلى 4 مرات في الأسبوع (حسب البشرة) للحصول على أفضل النتائج