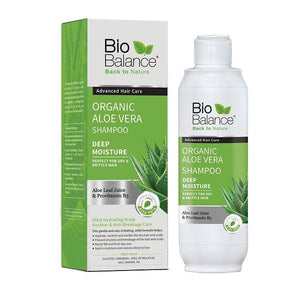 Bio Balance Organic Aloe Vera Deep Moisture Shampoo 330ml works overtime to hydrate and strengthen dry and brittle hair. This unique mix of organic Aloe Vera and Provitamin B5 with Plant Proteins and minerals work on the hair and scalp to help prevent dryness and breakage.
Formulated without harsh sulfates that can fade color and leave hair looking and feeling dull and weak.
HOW TO USE:
Apply into wet hair & gently work through to ends. Rinse thoroughly. For best results follow with Bio Balance Organic Argan Oil Conditioner.
يعمل بيوبالانس شامبو الترطيب العميق بالألوفيرا على ترطيب وتقوية الشعر الجاف والهش. يعمل هذا المزيج الفريد من الصبار العضوي وبروفيتامين B5 مع البروتينات النباتية والمعادن على الشعر وفروة الرأس للمساعدة في منع جفاف و تكسر الشعر. تركيبة خالية من السلفات التي يمكن أن تؤثر على لون الشعر و تجعله يبدو ضعيفًا و باهتًا.
طريقة الاستخدام:
ضعيه على الشعر المبلل ودلكي بلطف حتى الأطراف. اشطفيه جيدا. للحصول على أفضل النتائج ، اتبعيه باستخدام بلسم زيت الأرغان العضوي من بيو بالانس.
شامبو خالي من الكبريت
صارلي سنتين بستخدمه وما يستغني عنه لانه رائع للشعر وصار مظهر شعري صحي
BIO BALANCE ORGANIC ALOE VERA DEEP MOISTURE SHAMPOO 330ML
shampoo
It makes the hair looking more natural and healthier
It makes the hair looking healthier and softer