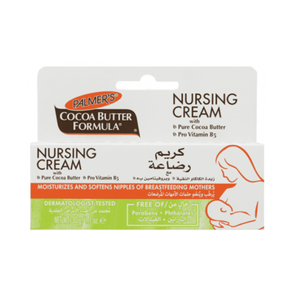 PALMER'S NURSING BUTTER NIPPLE CREAM FOR PREGNANCY AND BREASTFEEDING an easy-to-apply combination of pure Cocoa Butter and (Panthenol) Pro-Vitamin B5 in a soothing emollient base, helps relieve sore, cracked nipples associated with breastfeeding. Also may be used pre-natally to condition nipples for breast feeding. Dermatologically Tested.
HOW TO USE:

Apply a small amount of Palmer's Cocoa Butter Formula Nursing Cream to nipple area after each feeding or as often as needed. This product does not have to be washed off prior to breastfeeding. Dermatologically tested.
Prenatal Use: May also be used to condition nipples prior to breastfeeding. Apply daily to keep nipples soft, supple and moisturized.
كريم الحلمة بزبدة الكاكاو من بالمرز للحمل والرضاعة ، مزيج سهل الاستخدام من زبدة الكاكاو النقية و (بانثينول) برو فيتامين ب 5 في قاعدة مطرية مهدئة ، يساعد على تخفيف التهاب الحلمات المتشققة المرتبطة بالرضاعة الطبيعية. يمكن أيضًا استخدامه قبل الولادة لتكييف الحلمات للرضاعة الطبيعية. مفحوصه من قبل اطباءالجلديه.
طريقة الاستخدام:

ضعي كمية صغيرة من الكريم على منطقة الحلمة بعد كل رضعة أو كلما دعت الحاجة. لا يلزم غسل هذا المنتج قبل الرضاعة الطبيعية. مفحوصه من قبل اطباءالجلديه.
الاستخدام قبل الولادة: يمكن استخدامه أيضًا لترطيب الحلمات قبل الرضاعة الطبيعية. ضعيه يوميًا للحفاظ على حلمات الثدي ناعمة ونضرة ومرطبة.
PALMER'S NURSING BUTTER NIPPLE CREAM FOR PREGNANCY AND BREASTFEEDING 30 G