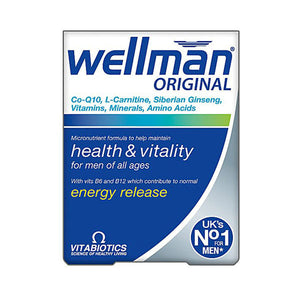 VITABIOTICS WELLMAN ORIGINAL HEALTH &VITALITY 30 TABLETS With vitamins B6, B12 and copper which support normal energy release. Includes vitamins C, D and B12 which contribute to normal immune system function. Provides pantothenic acid and magnesium which helps to reduce tiredness and fatigue. Zinc contributes to normal reproduction and the maintenance of normal testosterone levels in the blood.
HOW TO USE:
Take one tablet per day with your main meal.
فيتابيوتيك ويلمان اوريجينال للصحة والحيوية 30 قرص مع فيتامينات ب 6 ، ب 12 والنحاس التي تدعم إطلاق الطاقة الطبيعية. يشمل الفيتامينات C و D و B12 التي تساهم في وظيفة الجهاز المناعي الطبيعية. يوفر حمض البانتوثنيك والمغنيسيوم مما يساعد على تقليل التعب والإرهاق. يساهم الزنك في التكاثر الطبيعي والحفاظ على مستويات هرمون التستوستيرون الطبيعية في الدم.
طريقة الاستخدام:

خذ قرصًا واحدًا يوميًا مع وجبتك الرئيسية.