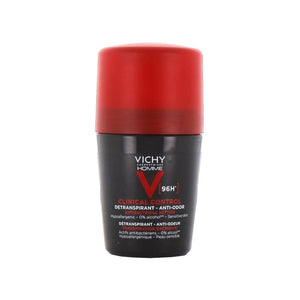 VICHY CLINICAL CONTROL 96H DETRANSPIRANT ANTI ODOR 50ML has been clinically proven to control excessive perspiration :
96H Dry Touch
Anti-Odor & Anti-Humidity
Antibacterial
Developed under dermatological control, its unique formula lets skin breathe and allows for optimal tolerance & comfort.
HOW TO USE:
Apply daily to clean, dry armpits.
فيتشي كلينكل كنترول 96 ساعه مضاد تعرق 50مل ثبت سريريًا قدرته على التحكم في التعرق المفرط:
-96H دراي تاتش
-مضاد للروائح والرطوبة
-مضاد للجراثيم
تم تطويره تحت إشراف أطباء الجلد ، وتركيبته الفريدة تسمح للجلد بالتنفس وتسمح بالراحة والتسامح الأمثل.
طريقة الاستخدام:
يوضع يومياً على الإبطين النظيفين والجافين.