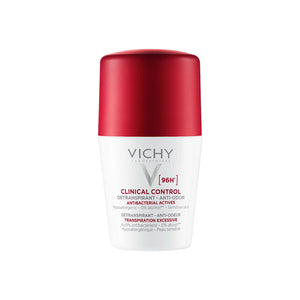 VICHY CLINICAL CONTROL 96H ANTI BACTERIAL ACTIVES DEODORANT 50ML is an effective antiperspirant for those who want to control excessive perspiration. Bad odors usually arise from humidity and bacteria in the underarm area. With this in mind, this deodorant has a powerful formula that features antibacterial actives and also keeps the underarms humidity-free in order to neutralize odors at the source! For that purpose, this deodorant contains Zinc, with antibacterial activity to avoid the proliferation of bacteria responsible for bad odors. In addition, it contains Aluminum salts that control perspiration by reducing sweat. And lastly, it features Perlite that helps absorb humidity. 
All in all, this deodorant offers long-lasting protection with an anti-odor and anti-humidity action, keeping a dry touch for up to 96 hours! With a practical roll-on format and suitable for all skin types, including sensitive skin, it is a great option to daily refresh and protect the underarm area. Basically, it leaves the skin comfortable and soft and also with a pleasant feeling of freshness.
HOW TO USE:
Apply Vichy Clinical Control 96H Anti-Perspirant Deodorant 50ml to clean and dry armpits daily, as necessary.
فيشي مزيل العرق المضاد للتعرق 50 مل هو مضاد فعال للتعرق لأولئك الذين يريدون السيطرة على التعرق المفرط. عادة ما تنشأ الروائح الكريهة من الرطوبة والبكتيريا في منطقة الإبط. مع وضع ذلك في الاعتبار ، فإن مزيل العرق هذا يحتوي على تركيبة قوية تتميز بمواد فعالة مضادة للبكتيريا وتحافظ أيضًا على منطقة تحت الإبط خالية من الرطوبة من أجل تحييد الروائح من المصدر! لهذا الغرض ، يحتوي مزيل العرق هذا على مادة الزنك ذات الفعالية المضادة للبكتيريا لتجنب انتشار البكتيريا المسؤولة عن الروائح الكريهة. بالإضافة إلى أنه يحتوي على أملاح الألمنيوم التي تتحكم في التعرق عن طريق تقليل العرق. وأخيرًا ، يتميز بالبيرلايت الذي يساعد على امتصاص الرطوبة.
بشكل عام ، يوفر مزيل العرق هذا حماية طويلة الأمد مع مفعول مضاد للرائحة والرطوبة ، مما يحافظ على لمسة جافة لمدة تصل إلى 96 ساعة! مع شكل رول أون عملي ومناسب لجميع أنواع البشرة ، بما في ذلك البشرة الحساسة ، يعد خيارًا رائعًا لإنعاش منطقة الإبط وحمايتها يوميًا. في الأساس ، يترك البشرة مريحة وناعمة وأيضًا مع شعور لطيف بالانتعاش.
طريقة الاستخدام:
استعملي Vichy Clinical Control 96H Anti-Perspirant Deodorant 50ml لتنظيف وتجفيف الإبط يوميًا ، حسب الضرورة.