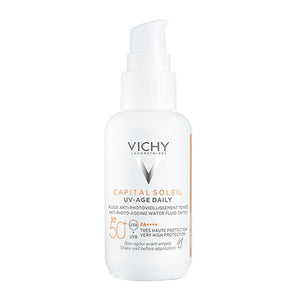 Vichy Capital Soleil UV - Age Tinted Anti Ageing Sunscreen SPF50+ is an advanced high protection facial Sunscreen with a water fluid texture that helps protect the skin from the damages of UV radiation and pollution whilst targeting existing signs of photo-ageing. Its formula delivers a light coverage to unify and enhance skin tone.The very high broad spectrum UVA and UVB sunscreen, enriched with powerful dermatological-actives: Peptides, Niacinamide and Vitamin E combined with multi-patented Netlock technology, protects the skin and helps to correct UV-induced wrinkles and dark spots, while strengthening the skin's defense barrier function.Capital Soleil UV Age Daily SPF50+ is the essential final necessary step in your daily skincare routine, all year round. The lightweight, breathable texture combined with advanced suncare technology provides uniform invisible coverage, that leaves no white cast or tacky finish. Skin looks healthier, smoother and feels protected.

BENEFITS:
●Ultra-high SPF 50+ UVA PF 46 protection against UV radiation and pollution.
●Targets existing photo ageing signs including dryness and dull complexion
●Helps correct and protect against wrinkles and dark spots
●Strengthens skin barrier function
●Suitable for all skin types and tones, with invisible skin finish
●Dermatologist tested. Hypoallergenic. Non comedogenic.
●Anti eye-stinging, tested under ophthalmological control.
●Clinical test on dark-spots pigmentation with image analysis on 43 women, during 56 days on daily use.
HOW TO USE:
Apply every morning as the final step of your skincare routine, even around the eyes and on the neck. It's ultra-light, highly breathable texture provides an invisible, non-greasy skin-like finish, creating a perfect base for smooth make-up application.
فيشي كابيتال سولاي UV-Age واقي شمس ملون SPF 50+ هو واقي شمسي متقدم للوجه ذو حماية عالية مع تركيبة سائلة تساعد على حماية البشرة من أضرار الأشعة فوق البنفسجية والتلوث مع استهداف علامات تقدم العمر: الببتيدات والنياسيناميد وفيتامين E جنبًا إلى جنب مع تقنية نيتلوك الحاصلة على براءات اختراع متعددة ، يحمي البشرة ويساعد على تصحيح التجاعيد التي تسببها الأشعة فوق البنفسجية والبقع الداكنة ، مع تقوية وظيفة الحاجز الدفاعي للبشرة.يستخدم في روتينك اليومي للعناية بالبشرة ، على مدار السنة. توفر تركيبته تغطية خفيفة لتوحيد لون البشرة وتعزيزها. خفيف الوزن القابل للتنفس مع تقنية الحماية من أشعة الشمس فائقة التغطية ، لا تترك لون أبيض أو ملمس لزج. تبدو البشرة أكثر صحة ونعومة ومحمية.
الفوائد:
● حماية فائقة SPF 50+ ضد الأشعة فوق البنفسجية والتلوث.
● يستهدف علامات تقدم السن و الجفاف والبشرة الباهتة
● يساعد على تصحيح التجاعيد والبقع الداكنة والحماية منها
● يقوي وظيفة حاجز الجلد
● مناسب لجميع أنواع البشرة ودرجاتها ، مع لمسة نهائية غير مرئية للبشرة
● تم اختباره من قبل أطباء الجلدية. هيبوالرجينيك. غير كوميدوغينيك.
● مضاد لاذع العين ، تم اختباره تحت إشراف أطباء العيون.
● اختبار سريري على تصبغ البقع الداكنة مع تحليل الصور على 43 امرأة ، لمدة 56 يومًا من الاستخدام اليومي.
طريقة الاستخدام:
يُطبق كل صباح بعد روتين العناية بالبشرة اليومي. يُرج جيداً قبل الإستعمال. يُعاد إستعماله بشكل متكرر لإستمرار الحماية من الشمس.