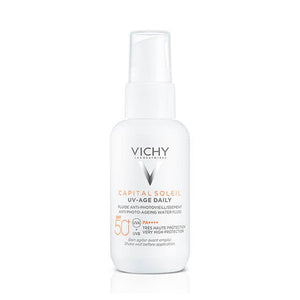 VICHY CAPITAL SOLEIL UV-AGE DAILY 50+ SPF 40ML is a facial sunscreen that shields the skin from sun damage with broad-spectrum protection while working to reduce UV-induced wrinkles and dark sports. With an incredibly light water fluid texture, this sunscreen is suitable for all skin types. Equally important, the formula blends to an invisible and natural finish on all skin tones.
Vichy vulcanic mineral water, niacinamide, peptides and probiotic fractions work together with netlock technology to deliver the best care. Vichy vulcanic mineral water works to strengthen the skin while niacinamide protects the skin from environmental stressors, soothes irritation and evens out dark spots. In addition, peptides and probiotic fractions contribute to reducing signs of aging while replenishing the natural balance of the skin. At the same time, a blend of powerful sunscreen agents works to provide broad-spectrum protection from UVA and UVB rays, granting ultra-high SPF 50+ and UVA PF 46. More than a sunscreen, this formula also works to reduce sun-induced aging signs such as wrinkles and dark spots. Apply it to protect the skin with a lightweight, comfortable skin-like texture that prevents and corrects photo-aging!
HOW TO USE:
To begin with, give the bottle an energetic shake. Then, apply one pump of Vichy Capital Soleil UV-Age Daily Water Fluid SPF50+ onto the face, after your moisturizer. Work the product onto the skin to enhance absorption.
فيتشي كابيتال سوليل يو في اج ديالي 50+ اس بي اف 40مل هو واقي من الشمس للوجه يحمي البشرة من أضرار أشعة الشمس مع حماية واسعة الطيف أثناء العمل على تقليل التجاعيد التي تسببها الأشعة فوق البنفسجية والرياضات الداكنة. مع قوام سائل مائي خفيف بشكل لا يصدق ، هذا الواقي من الشمس مناسب لجميع أنواع البشرة. بنفس القدر من الأهمية ، تمتزج التركيبة بلمسة نهائية غير مرئية وطبيعية على جميع ألوان البشرة. تعمل مياه Vichy vulcanic المعدنية والنياسيناميد والببتيدات وكسور البروبيوتيك جنبًا إلى جنب مع تقنية netlock لتقديم أفضل رعاية. تعمل المياه المعدنية Vichy vulcanic على تقوية الجلد بينما يحمي niacinamide البشرة من العوامل البيئية ، ويلطف التهيج ويسوي البقع الداكنة. بالإضافة إلى ذلك ، تساهم الببتيدات وكسور البروبيوتيك في تقليل علامات الشيخوخة مع تجديد التوازن الطبيعي للبشرة. في الوقت نفسه ، يعمل مزيج من العوامل الواقية من الشمس القوية على توفير حماية واسعة الطيف من الأشعة فوق البنفسجية الطويلة (A) والأشعة فوق البنفسجية الطويلة (B) ، مما يمنح عامل حماية عالي جدًا SPF 50+ و UVA PF 46. أكثر من كونه واقٍ من الشمس ، تعمل هذه التركيبة أيضًا على تقليل علامات الشيخوخة التي تسببها الشمس مثل التجاعيد والبقع الداكنة. ضعه لحماية البشرة بملمس خفيف الوزن ومريح يشبه الجلد يمنع ويصحح شيخوخة الصور!
طريقة الاستخدام:
بادئ ذي بدء ، اعط الزجاجة هزة نشطة. بعد ذلك ، ضعي مضخة واحدة من فيتشي كابيتال سوليل يو في اج ديالي 50+ اس بي اف 40مل  على الوجه ، بعد المرطب. ضع المنتج على الجلد لتعزيز الامتصاص.