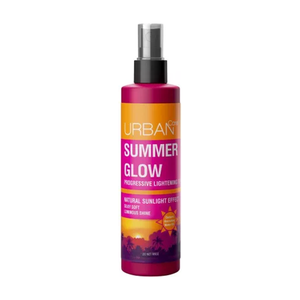 URBAN CARE SUMMER GLOW PROGRESSIVE LIGHTENING SPRAY 150ML enriched with nourishing Monoi oil, the spray is formulated to create soft and natural-looking glossy reflections. Suitable for naturally blonde to light brown hair, in addition to bleached hair. Vitamin E and Keratin contained in its formula nourish the hair and help achieve softness and shine. It brightens and adds shine to the parts of the hair on which it is applied. It helps to gradually lighten the hair, gently add shine and create a sunkissed effect after the first application by activating without damaging the natural structure of the hair along with a wonderful fragrance.
HOW TO USE:
It is applied to the whole hair or to the areas you want with a no-rinse spray form. It does not require rinsing afterwards. Spray on damp/wet hair after bathing. It is then dried with a hair dryer. If a hair straightener is to be used, the hair must be completely dry. Take a break for 3-4 days after each use and wash your hair the next day.
اربن كير سمر جلو لايتننج سبريه 150مل المخصب بزيت Monoi المغذي ، تم تركيب الرذاذ لخلق انعكاسات لامعة ناعمة وطبيعية. مناسب للشعر الأشقر الطبيعي إلى البني الفاتح ، بالإضافة إلى الشعر المبيض. فيتامين E والكيراتين الموجودان في تركيبته يغذي الشعر ويساعد على تحقيق النعومة واللمعان. يضيء ويضفي لمعانًا على أجزاء الشعر التي يتم تطبيقه عليها. يساعد على تفتيح الشعر تدريجيًا ، ويضيف لمعانًا بلطف ويخلق تأثيرًا مشمسًا بعد الاستخدام الأول من خلال تنشيطه دون الإضرار بالبنية الطبيعية للشعر إلى جانب العطر الرائع.
طريقة الاستخدام:
يتم تطبيقه على الشعر بالكامل أو على المناطق التي تريدها باستخدام شكل رذاذ بدون شطف. لا يتطلب الشطف بعد ذلك. رشه على شعر رطب / مبلل بعد الاستحمام. ثم يتم تجفيفه بمجفف شعر. في حالة استخدام مكواة فرد الشعر ، يجب أن يكون الشعر جافًا تمامًا. خذي استراحة لمدة 3-4 أيام بعد كل استخدام واغسلي شعرك في اليوم التالي.