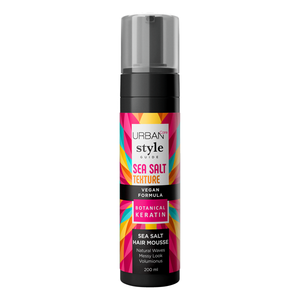 URBAN CARE STYLE GUIDE SEA SALT TEXTURE SEA SALT MOUSSE 200ML Sea Salt Effect, natural and messy waves, voluminous and fuller hair foam To create natural, messy, full and dazzling waves like coming out of the sea, with its formula containing BOTANICAL KERATIN COMPLEX and UV FILTER, you can maintain your hair by providing protection while creating wonderful waves and volume. and density effect.- Does not make your hair heavy and hard.- Provides flexibility and is easily combed.- Helps protect your hair against humidity, environmental factors and UV rays.- Helps protect your hair against blow-dry heat.
HOW TO USE:
1. APPLICATION: To create natural and diffuse waves; Spray evenly on damp, then dry hair lengths and ends and style.
2. APPLICATION: For volume and fullness; Spray and shape your damp hair and scalp.
اربن كير ستايل جايد سي سالت تكستشر موس 200مل تأثير ملح البحر ، تموجات طبيعية وفوضوية ، رغوة شعر كثيفة وممتلئة لخلق موجات طبيعية ، فوضوية ، كاملة ورائعة مثل الخروج من البحر ، بتركيبته التي تحتوي على مركب الكيراتين النباتي وفلتر الأشعة فوق البنفسجية ، يمكنك الحفاظ على شعرك من خلال توفير الحماية أثناء إنشاء موجات وحجم رائع. تأثير الكثافة والكثافة. - لا يجعل شعرك ثقيلًا وصلبًا. - يوفر مرونة ويسهل تمشيطه. - يساعد على حماية شعرك من الرطوبة والعوامل البيئية والأشعة فوق البنفسجية. - يساعد على حماية شعرك من الحرارة الجافة.
طريقة الاستخدام:
1. التطبيق: لإنشاء موجات طبيعية ومنتشرة. رش بالتساوي على الشعر الرطب ، ثم جفف أطوال الشعر وأطرافه وأسلوبه.
2. التطبيق: للحجم والامتلاء. رش وشكل شعرك وفروة رأسك الرطبة.