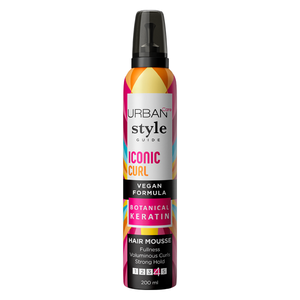 URBAN CARE STYLE GUIDE ICONIC CURL HAIR MOUSSE 200ML with its formula containing BOTANICAL KERATIN COMPLEX and UV FILTER, STYLE GUIDE Iconic Curl Hair Foam creates full, voluminous and dazzling curls in your hair while providing protection and care at the same time. Provides long-lasting strong curl control. It doesn't weigh your hair down. Sticky feel, leaves no residue, easily combed. It helps to protect your hair against humidity, environmental factors and UV rays. It helps to protect your hair against the heat of the blow dryer. Contains herbal keratin and UV Filter. It does not contain parabens, silicones and dyes. It has vegan content. It is not tested on animals.
HOW TO USE:
1. APPLICATION: Shake before use. Holding the nozzle down, spray the foam into your palm. Apply to damp hair and style as you wish.
2. APPLICATION: For more movement, apply by tilting your head forward and support the shape you have given with a blow dryer.
اربن كير ستايل جايد اوينك كيرل هير موس 200مل بفضل تركيبته التي تحتوي على مركب الكيراتين النباتي وفلتر الأشعة فوق البنفسجية ، تخلق رغوة الشعر ستايل جايد أيكونيك كيرل تجعيدًا كاملاً وكثيفًا ورائعًا في شعرك مع توفير الحماية والعناية في نفس الوقت. يوفر تحكمًا قويًا في التجعيد طويل الأمد. لا تثقل شعرك. ملمس لزج ، لا يترك أي بقايا ، سهل التمشيط. يساعد على حماية شعرك من الرطوبة والعوامل البيئية والأشعة فوق البنفسجية. يساعد على حماية شعرك من حرارة مجفف الشعر. يحتوي على الكيراتين العشبي وفلتر للأشعة فوق البنفسجية. لا يحتوي على البارابين والسيليكون والأصباغ. يحتوي على محتوى نباتي. لم يتم اختباره على الحيوانات.
طريقة الاستخدام:
1. التطبيق: رج قبل الاستخدام. أمسك الفوهة لأسفل ، ورش الرغوة في راحة يدك. يوضع على الشعر الرطب ويصفف كما يحلو لك.
2. التطبيق: لمزيد من الحركة ، ضعيه عن طريق إمالة رأسك للأمام ودعم الشكل الذي أعطيته بمجفف الشعر.