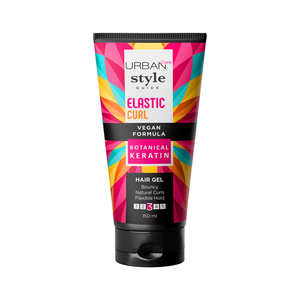 URBAN CARE STYLE GUIDE CURL GEL 150ML with VEGAN Formula has been developed to create eye-catching and distinctive curls by keeping the natural curly shape of the curls in your hair. It helps to preserve moisture by preventing electrification in the hair. Elastic Curl Hair Gel with its alcohol-free formula for naturally moving and dazzling curls does not leave a sticky feeling on the hand during application. Provides long-lasting curl control. It doesn't weigh your hair down. Moisturizes while styling your hair. It provides flexibility to your hair strands.
HOW TO USE:
Apply a small amount of gel to your damp hair, evenly from root to tip. Shape and let dry.
اربن كير ستايل جايد كيرل جل 150مل بتركيبة VEGAN تم تطويرها لخلق تجعيد ملفت للنظر ومميز من خلال الحفاظ على الشكل الطبيعي المجعد لتجعيد الشعر في شعرك. يساعد في الحفاظ على الرطوبة عن طريق منع الكهرباء في الشعر. جل الشعر Elastic Curl بتركيبته الخالية من الكحول لتجعيد الشعر الطبيعي والمتألق لا يترك ملمسًا لزجًا على اليد أثناء التطبيق. يوفر تحكمًا طويل الأمد في التجعيد. لا تثقل شعرك. يرطب أثناء تصفيف شعرك. يوفر مرونة لخيوط شعرك.
طريقة الاستخدام:
ضعي كمية صغيرة من الجل على شعرك الرطب بالتساوي من الجذور إلى الأطراف. شكل واتركها تجف.
URBAN CARE STYLE GUIDE CURL GEL 150ML