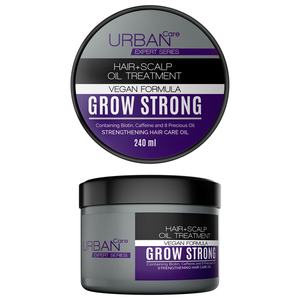 URBAN CARE HAIR SCALP + OIL TREATMENT GROW STRONG 240ML thanks to the botanical oils, biotin and caffeine it contains, it nourishes your hair and scalp and provides noticable softness, shine and strength in your hair in a short time. While increasing the resistance of your hair against moisture loss, it helps to treat hair ends and prevent breakage. It helps your hair grow faster.
Nourishes hair and scalp;
Provides softness and shine;
Increases resistance to moisture loss;
Helps prevent the breakage of hair ends.
Veganska formula.
HOW TO USE:
Take a small amount in your hand and spread it in your palm;
Apply by massaging your scalp only;
You can apply it to the ends of the hair and damaged areas;
Wait no more than 1 hour;
Shampoo your hair before rinsing;
Apply once or twice a week;
Use with EXPERT Series Shampoo and Peeling for more effective results.

اربن كير هير سكالب + اويل تريتمنت جرو سترونج 240مل بفضل الزيوت النباتية والبيوتين والكافيين التي يحتوي عليها ، فإنه يغذي شعرك وفروة رأسك ويمنح شعرك نعومة ولمعانًا وقوة ملحوظة في وقت قصير. مع زيادة مقاومة شعرك ضد تساقط الرطوبة ، فإنه يساعد في علاج أطراف الشعر ومنع تكسره. يساعد شعرك على النمو بشكل أسرع.
-يغذي الشعر وفروة الرأس.
-يوفر نعومة ولمعان.
-يزيد من مقاومة فقدان الرطوبة.
-يساعد على منع تقصف أطراف الشعر.
صيغة فيجانسكا.
طريقة الاستخدام:
خذ كمية صغيرة في يدك وافردها في راحة يدك.
يوضع عن طريق تدليك فروة رأسك فقط.
يمكنك وضعه على أطراف الشعر والمناطق التالفة.
لا تنتظر أكثر من ساعة واحدة.
اغسلي شعرك بالشامبو قبل شطفه.
تقدم مرة أو مرتين في الأسبوع.
استخدميه مع شامبو وتقشير EXPERT Series للحصول على نتائج أكثر فعالية.