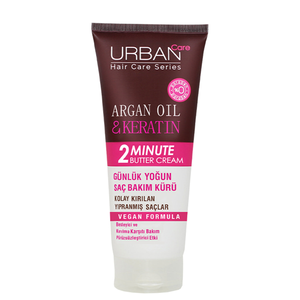 URBAN CARE ARGAN OIL & KERATIN 2 MINUTE BUTTER CREAM 200ML anti-Breakage and Smoothing intensive care cure containing Argan Oil and Keratin has been developed for easily broken and damaged hair. It helps to provide a stronger, healthier and brighter appearance by repairing the wear and tear on the hair in just 2 minutes. With its intense formula, it offers the complete care it needs without weighing the hair down. With its soft and creamy texture, it takes the electrification of the hair and makes it easy to shape. With its special formula, it acts on the hair fiber, smoothes it and reduces hair breakage.
HOW TO USE:
1st application alternative: It is applied to wet hair lengths and ends after shampoo and cream. Leave for 2 minutes, then rinse.
2nd application alternative: It can be applied to the whole hair intensively before washing, wait as long as you want and then stop. Then it goes to the shampoo stage.
اربن كير ارغان اويل & كرتين 2 منيت بيتر كريم 200مل تم تطوير علاج العناية المركزة المضاد للكسر والتنعيم الذي يحتوي على زيت الأرجان والكيراتين للشعر المتقصف والتالف بسهولة. يساعد على توفير مظهر أقوى وأكثر صحة وإشراقًا من خلال إصلاح التآكل على الشعر في دقيقتين فقط. بتركيبته المكثفة ، فإنه يوفر العناية الكاملة التي يحتاجها دون إثقال الشعر. بفضل قوامه الناعم والقشدي ، فإنه يأخذ كهربة الشعر ويسهل تشكيله. بتركيبته الخاصة ، يعمل على ألياف الشعر ، وينعمه ويقلل من تكسر الشعر.
طريقة الاستخدام:
أول بديل للتطبيق: يوضع على الشعر المبلل بأطوال ونهايات بعد الشامبو والكريم. اتركيه لمدة دقيقتين ثم اشطفيه.
بديل التطبيق الثاني: يمكن تطبيقه على الشعر بالكامل بشكل مكثف قبل الغسيل ، انتظري طالما تريدين ثم توقفي. ثم ينتقل إلى مرحلة الشامبو.