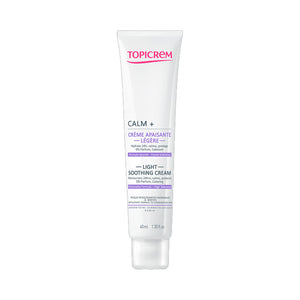 TOPICREM CALM LIGHT SOOTHING CREAM a lightweight soothing facial cream for  oily, combination and normal skin. Fragrance free and formulated with calming sunflower and plum oil, it helps to hydrate the skin and reduce irritation and sensitivity. Offering up to 24 hours of moisturisation, it reveals calmer, smoother and healthier skin. 
HOW TO USE : 
Apply to clean, dry skin.

Massage until fully absorbed.

Use morning and/or evening.
توبيكريم مرطب خفيف للوجه كريم وجه مهدئ خفيف الوزن لأنواع البشرة الدهنية والمختلطة والعادية. خالي من العطور ومصنوع من زيت عباد الشمس والبرقوق المهدئ، فهو يساعد على ترطيب البشرة وتقليل التهيج والحساسية. يوفر ما يصل إلى 24 ساعة من الترطيب، ويكشف عن بشرة أكثر هدوءًا ونعومة وصحة.
طريقة الاستخدام : 
- ضعيه على بشرة نظيفة وجافة.
- قم بالتدليك حتى يتم امتصاصه بالكامل.
- يستخدم صباحاً و/أو مساءً.