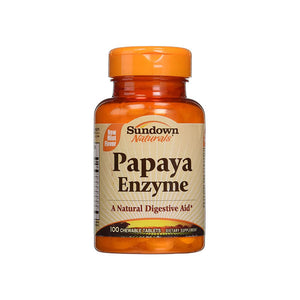 SUNDOWN PAPAYA ENZYME 100 CHEWABLE TABLETS combined delicious Papaya fruit with supportive enzymes including Papain, amylase and protease. Together, they help address discomforts associated with occasional gastrointestinal concerns. Papaya also supports protein digestion and food absorption. Take this delicious digestive aid regularly to promote gastrointestinal wellness. No artificial color or sweetener. No preservatives, milk, lactose, soy, gluten, wheat, yeast or fish.

HOW TO USE:
For adults: Chew three (3) chewable tablets following a meal, one to three times daily.
سن داون انزيم البابايا 100 قرص قابل للمضغ يجمع بين فاكهة البابايا اللذيذة والإنزيمات الداعمة بما في ذلك Papain و amylase والبروتياز. يساعدان معًا في معالجة المضايقات المرتبطة بمشاكل الجهاز الهضمي العرضية. تدعم البابايا أيضًا هضم البروتين وامتصاص الطعام. خذ هذا المكمل اللذيذ بانتظام لتعزيز صحة الجهاز الهضمي. لا يوجد لون صناعي أو مُحلي. بدون مواد حافظة أو حليب أو لاكتوز أو صويا أو جلوتين أو قمح أو خميرة أو سمك.
طريقة الاستخدام:
للبالغين: مضغ ثلاث (3) أقراص قابلة للمضغ بعد الوجبة مرة إلى ثلاث مرات يوميًا.