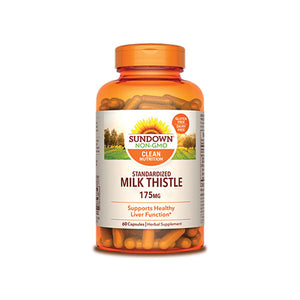 SUNDOWN MILK THISTLE 60 CAPSULES is a traditional herb that has been used in Greek health practices for over 2,000 years. Taking a Milk Thistle supplement can help support the liver and maintain healthy liver function.  contains Silymarin, a flavonoid that helps support the structure of the outer cell membrane of liver cells.
HOW TO USE:
For adults, take two (2) capsules twice daily, preferably with a meal.
سن داون ميلك ثيسل 60 كبسولة هو عشب تقليدي تم استخدامه في الممارسات الصحية اليونانية لأكثر من 2000 عام. يمكن أن يساعد تناول مكملات شوك الحليب في دعم الكبد والحفاظ على وظائف الكبد الصحية. يحتوي على سيليمارين ، وهو فلافونويد يساعد على دعم بنية غشاء الخلية الخارجية لخلايا الكبد.
طريقة الاستخدام:
للبالغين ، تناول كبسولتين مرتين يوميًا ، ويفضل مع إحدى الوجبات.