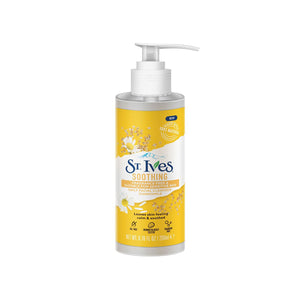 ST IVES SOOTHING DAILY FACIAL CLEANSER CHAMOMILE 200ML Got sensitive skin? St. Ives Soothing Chamomile Face Wash leaves your skin feeling calm and soothed on the daily basis. This gentle facial cleanser is fragrance-free, removes dirt, oil and impurities.
HOW TO USE :
1.Squeeze a coin-sized amount onto fingertips and gently massage onto face.
2.Spread in small, circular motions, applying gentle pressure to wake your skin's natural circulation.
3.Work all over, right up to your hairline and onto the sides of your nose.
4.When you're done, rinse and pat dry with a clean towel.
اس تي ايفز منظف الوجه اليومي بالبابونج لتنعيم البشرة هل لديك بشرة حساسة؟ يترك غسول الوجه بالبابونج المهدئ بشرتك تشعر بالهدوء بشكل يومي. منظف الوجه اللطيف خالي من العطور ويزيل الأوساخ والزيوت والشوائب
كيفية الاستخدام

   ضعي كمية بحجم العملة المعدنية على أطراف الأصابع ودلكي وجهك برفق
وزعيه بحركات دائرية صغيرة ، واضغطي برفق لتنشيط الدورة الدموية الطبيعية لبشرتك
وزعيه على بشرتك ، حتى بالقرب من منبت الشعر وعلى جانبي أنفك
 عند الانتهاء ، اشطفيه وجففي بشرتك بمنشفة نظيفة